ROASY GOOGLE SHOPPING AUTOMATION
Do you believe ROAS (Return On Advertising Spend) is the lifeblood of your marketing efforts?
If so, ROASY is will transform how you run your Google Shopping Campaigns. With a few easy steps you could be running AI driven automated product level campaigns with ongoing purchase intent optimisation.
Call +44 (0) 20 8068 0360
Customer Success Helpline
How we help
Upgrade to Intent Driven Shopping Automation
Have you noticed a steep decline in your ad returns on Google Shopping? This is caused by more and more brands using smart shopping and external bidding automation. Roasy helps you overcome this problem with easy to set up ongoing real-time optimisation and industry best practices with very little effort.  
BE DIFFERENT
Go Against The Flow
Why do what everyone else does? The only way to obtain amazing results is to do something new. Roasy is the ever-evolving definition of something new. 
Purchase Intent Data
Roasy uses your data in a completely different way than majority of automation platforms.
Reactive Bidding
We based our AI driven algorithms on your latest data. With Roasy you will be able to see results straight away.
Product Level Intent
Roasy transforms your campaigns into an intent prioritised product group level structure.
Easy Assisted Setup
FREE and simple assisted onboarding process means your can get going in no time.
ROAS FOCUS
Customised Branded Dashbords
With Roasy you get your own live dashboard with KPIs and metrics that suit your business
See how we work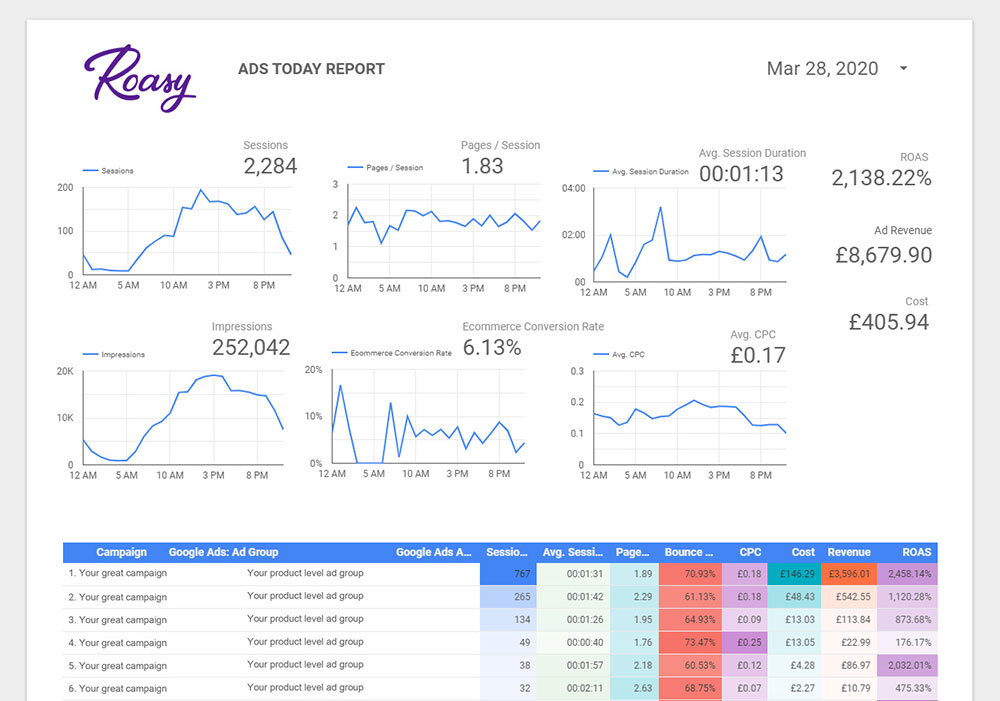 BY GEEKS FOR NON-GEEKS
We understand you want to save time and get better results
Now you don't have to be a data scientist to get great results from Google Shopping. Roasy can take care of all day to day the grunt work for you.
Find out how
TESTIMONIALS
Results are in
Your results can speak for themselves, just like some of our client's success stories.
"Roasy managed to generate 1,087.65% ROAS on Google Shopping in the first week alone."
"The platform did save hours of shopping ads management time per week. There's nothing like this on the market."
"Roasy helped up double our ad returns with 3 days, we've been struggling to keep up with all the automations out there for months."
"This platform is very easy to use, highly customisable and has great reporting capabilities. Big improvement on ad scripts and Google Sheets."
Maggie
Ad Accounts Executive